2023 - 2024 Funded Partners & Programs
JCUW fights for the health, education, and financial stability of every person in our county.  We do this work with deep partnerships and collaborations.  The funds raised from the annual campaign go to support 25 impact programs that focus their part of our mission and bold goal to move 1,000 struggling working families into stability by 2030. Each and every day, these organizations are creating hope for individuals and families in need, through their partnership to advance lasting-change in education, health, and financial stability.  Not one organization can do this work alone.  Our work to create a stronger community is challenging, all encompassing, and weaved together.  We continue to create opportunities for collective impact where all organizations are working to create a stronger community.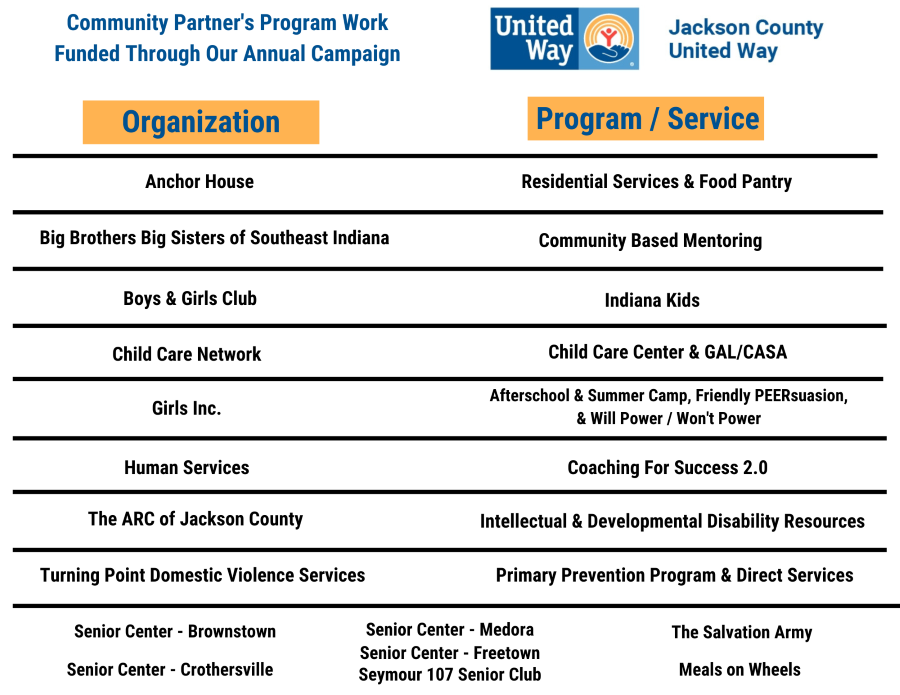 Jackson County United Way also funds Salvation Army, Meals on Wheels and Seymour, Brownstown, Crothersville, Medora & Freetown Senior Centers.
Partnerships & Funding:
Jackson County United Way benefits annually from a fund administered by the Community Foundation of Jackson County. Your gifts to help grow that fund – and therefore the annual grants -- may be made to the Jackson County United Fund Inc. Endowment. Gifts may take the form of a memorial for a loved one or friend. They can mark milestones in the lives of your family and friends. And they can be part of your estate planning. Earnings from your gifts to the fund – or perhaps through an endowment you choose to start – can benefit the Jackson County United Way year after year. For information about how you can donate now or through planned giving, call Foundation President Dan Davis at 812-523-4483.